Originally posted here
Before the women pop stars of today's generation (Beyoncé, Lady Gaga, Rihanna, Ariana Grande, Billie Eilish, and Dua Lipa) or even of the older generation (Janet Jackson and Madonna), there was multiple Grammy-award winning singer and songwriter, Donna Summer.  Nicknamed the Queen of Disco, Summer was one of the first African-American recording artists to cultivate a large international audience in dance music. 
With hit songs like "Last Dance," "MacArthur Park,", "Hot Stuff," "Bad Girls," and more there's no need to wonder why. However, outside of her larger than life public persona, glamorous wardrobe, and signature hair styles, the general public doesn't know much about the diva as she was notoriously private; well, that's until now. The brainchild of playwrights Des McAnuff and Robert Cary, Summer: The Donna Summer Musical is a crash course on the music icon's life. 
Originally published in November 2017 with a debut on Broadway at the Lunt-Fontanne Theatre in April 2018, the production has made its official return as a touring show. At the end of November, I had the chance to see it live at the State Theatre in New Brunswick. With the trailblazer's birthday approaching and after undergoing a major renovation to commemorate the theater's centennial I couldn't think of a better time to experience this piece.
With such big shoes to fill, the show opens with an ensemble performance of "The Queen Is Back". Although the song isn't one of Summer's strongest vocal showings or even one of her more popular tracks, I must admit this is a brilliant way to set the tone for the evening. Quickly, we are introduced to Diva Donna played by Brittny Smith (The Color Purple, Chicago, and The Marvelous Wonderettes), one of the three versions of Summer featured throughout the evening. Smith's commanding and mature vocals immediately capture you, similar to that of the late singer. Following the number, Smith goes into a quirky monologue to engage the nearly sold-out theatre encouraging full crowd participation. If you came for a dance party, you found it but if you can for a serious and structured deep dive into Summer's life, sorry you're in the wrong place. Instead, sprinkled throughout each musical number you'll be fed a bite-sized piece of history with constant back and forth jumps in time. For example, while Smith belts out "I Feel Love," we are immediately thrust into the world of Summer at the height of her career. The focus is why she chose to pursue a career in dance music over other genres rather than flashing back to her childhood. 
As we're introduced to Disco Donna played by Charis Gullage (A Bronx Tale and Ragtime), she meticulously sings the song that propelled Summer into superstardom, "Love to Love You Baby" which to this day remains influential to pop singers around the world (and was sampled by Queen Bey herself on "Naughty Girl" off her solo debut album). Gullage nails the breathy nature of the track but she hasn't quite mastered the essence of the song which is no slight to her as it is a major feat for any vocalist. Gullage later displayed her range with a robust performance of Summer's most vocally challenging song "MacArthur Park". During Gullage's introductory dialogue we are given the full backstory of "Love to Love You Baby" which exposes Summer's initial hesitancy to take up the mantle of glamazon sex-positive performer that would later become her signature. 
In reflecting on where her love for music began, we are then teleported to Summer's childhood by way of Duckling Donna, played by Amahri Edwards-Jones (Mamma Mia, Chicago, and Matilda). As she sings "I Remember Yesterday," her bouncy vibrato warms your heart which beautifully compliments the innocence of the character. Ducking Donna goes on to reveal the sexual abuse Summer was subjected to by her family's pastor. 
For the remainder of the show, the musical frequently rotates between Diva Donna, Disco Donna, and Duckling Donna as narrator. With Duckling Donna representing Summer as a young girl growing up in Boston; Disco Donna representing Summer during her early adult years as she travels the globe; and Diva Donna representing Summer at the later end of her career settled down in the United States. Over the next hour or so the trio quickly tackles Summer's past drug use, abusive relationships, legal battle with her former label, her approach to motherhood, film career, and work as a painter.
Overall, Summer: The Donna Summer Musical is an amazing feel-good show. At times the group numbers are pitchy but the lead actresses Brittny Smith and Amahri Edwards-Jones are outstanding. Lighting design and production manager Russell A Thompson (The Wizard of Oz, Pippin, Hair, Fiddler on the Roof, and Footloose) does a stellar job with the visual storytelling through strategically positioned and varying shades of lighting. Music supervisor JP Meyer along with the entire band, charge the high-powered energetic tone throughout the show. Tony-award winner costumer Paul Tazewell does a phenomenal job with the wardrobe. Tazewell perfectly captured the fashion trends of Summer and the greater 1970s and 1980s (ostrich feathers, sequin, nude illusion, jumpsuits, and more) while making it modern. Although Summer's most memorable looks were either white or black, the decision to go with royal blue as the signature color was a good call creatively. When discussing the choice, Tazewell told Playbill, "holding all of the Donnas together was the most important thing. I was choosing a tone that would be able to transition from scene to scene, from year to year, and feel a little more seamless."
With that said, there is certainly room for improvement. Firstly, the three most mimicked elements of Donna Summer are her music, fashion, and hair. The first two were nailed while the hair failed to deliver. The hair did not match the timeline of each character. Head of wig and hair design, Brandon T. Miller did a good job creating volume in the hair units but in several pieces, the volume was overdone creating stiffness rather than billowing curls or free-flowing waves. Also, at times the hairpieces did not match the time period in which the characters were transporting the audience to. And several of Summer's signature hairstyles were notably absent from the musical.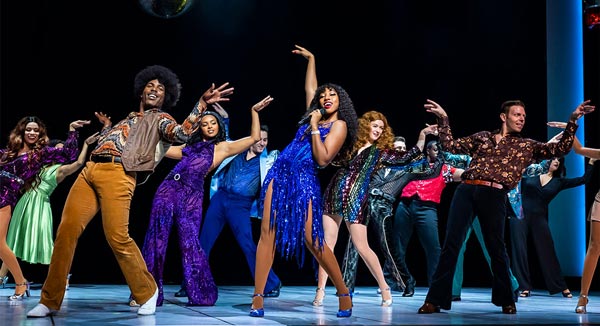 Summer: The Donna Summer Musical does very little to highlight just how monumental of a superstar Donna Summer was in context to other artists at the time which could be an unintended consequence of carving room for three narrators. As a viewer I'd rather receive an entree of her major milestones rather than a dozen appetizers of her whole life. This musical misses the mark in properly introducing the fullness of Donna Summer's legacy to younger audiences that may not have been exposed to her music via parents or grandparents. Unlike its production counterparts Ain't Too Proud To Beg – The Life and Times of The Temptations and Tina – The Tina Turner Musical, Summer: The Donna Summer Musical can not banked on having a knowledgeable audience as Donna Summer's career isn't as well documented (i.e. featured films and original television series).
Summer: The Donna Summer Musical lacks uniformity. The three actresses that play Donna could not be any more different from each other. Not only do the actresses differ in physical appearance (stature, mass, and skin tone) but vocally as well.
While we wait for the rumored Donna Summer biopic starring singer and actress Kelly Rowland, Summer: The Donna Summer is a great placeholder for the time being.
Experience Summer: The Donna Summer Musical for yourself! To view the tour schedule for the production visit thedonnasummermusical.com or follow the production across social media on Facebook, Instagram, or Twitter.